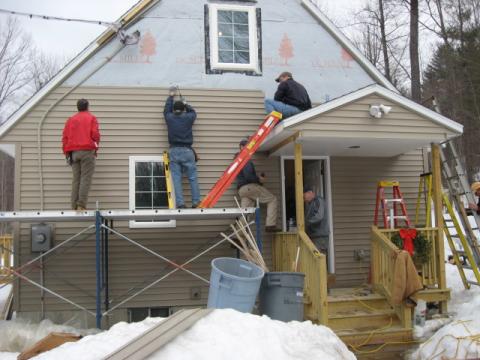 How can you get involved?  There are a variety of ways! 
Construction - I can swing a hammer (or willing to learn)
Fundraising - I can help find funding or organize fundraising events
Marketing - I can help get out the Habitat message?
Materials - My company can donate/discount materials for house construction
Supervisors and experienced help with specific skills are also needed

—

electricians, plumbers, roofers, heavy equipment operators.
No matter how you decide to become involved, you will meet great people who find tremendous satisfaction from working together and helping others.
If interested, please use the form below, call 413-664-4440, or email us at office@northberkshirehabitat.org Thank you!
Construction Volunteers should dress appropriately for the weather and the day's work assignments.  Wear comfortable clothing that you do not mind getting dirty.  On your feet wear a sturdy pair of shoes.  Work or hiking boots are strongly encouraged.  Open-toe shoes or sandals are not allowed.  On sunny days wear sunscreen and a hat. We also recommended wearing work gloves.  NBHFH will provide safety glasses, hearing protection and dust masks as needed.
The minimum age limit to work on a house is 16.  Teens, ages 14 – 15, may participate in landscaping as the house nears completion or similar tasks but must be accompanied by a parent or guardian.
When you arrive on the site, park your vehicle in the designated area. All volunteers are required to sign an adult release form the first time at the site. Volunteers must sign in for all subsequent visits.  Minors are required to sign a minor release form, and a parent or guardian must co-sign the form.  After signing in, volunteers will gather for announcements and a brief safety talk. The group will then be divided, and tasks will be assigned. Fifteen minutes before the end of the work session work will cease and all volunteers will participate in cleaning the site and putting tools away.