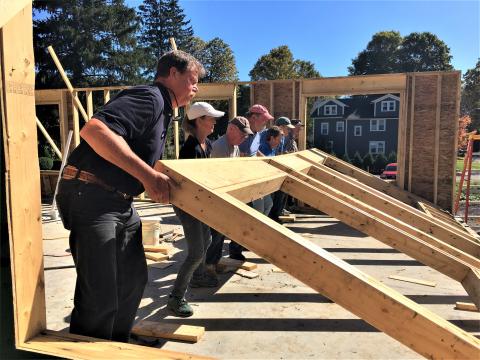 Northern Berkshire Habitat for Humanity is a locally run affiliate of Habitat for Humanity International.
Habitat for Humanity International was founded in 1976 in Americus, Georgia, Habitat for Humanity's vision is a world where everyone has a decent place to live. Today, Habitat works in nearly 1,400 communities across the U.S. and in approximately 70 countries and has helped 9.8 million people achieve strength, stability and independence through safe, decent and affordable shelter.  
Our affiliate: works hard to:
Make decent, safe, and affordable housing a matter of conscience and action for all members of the

Northern Berkshire

communities

.

Eliminate poverty housing and homelessness worldwide.
We:
Are locally funded. We receive no financial support from Habitat for Humanity International.
Serve the Northern Berkshire area and Stamford, Vermont.
Invite people of all backgrounds, races, and religions to build homes together in partnership with families in need.
We are the only organization in northern Berkshire actively working to alleviate the shortage of housing for low-income working families. By building or renovating homes we are empowering our homeowners to become contributing members of the community and providing security for their children to grow and prosper.
Families ae selected based on their need for housing, ability to repay a no profit mortgage, and willingness to partner with us. The family must provide a minimum of 250 hours of sweat equity in the construction of their home or other community service. The family pays a mortgage just like any other homeowner. These payments are then used to build more houses for more families.
It is the volunteer labor that allows Northen Bershire Habitat for Humanity to build affordable housing. Volunteers that form the core of the organization serving on the board of directors and various committees to manage the affiliate and its many projects. Additionally, volunteers are pounding nails and raising walls. Some volunteers have never driven a nail before becoming involved with Habitat. Volunteers learn, share, and teach each other the skills needed to transform a pile of lumber into a home for a deserving family. Many deep and lasting friendships have developed between volunteers. It can be a rich and deeply rewarding experience.
Please contact us at office@northberkshirehabitat.org or (413) 664-4440 to let us know if you are interested in working with us on site or behind the scenes on one of our committees.
Vision: A world where everyone has a decent place to live.
Mission statement: Seeking to put God's love into action, Habitat for Humanity brings people together to build homes, communities and hope.
Policy of Non-Proselytizing
This policy applies to Habitat for Humanity International and its affiliated organizations (HFH).
Policy: Habitat for Humanity International and its affiliated organizations (HFH) will not proselytize.  Nor will HFH work with entities or individuals who insist on proselytizing as part of their work with HFH.  This means that HFH will not offer assistance on the expressed or implied condition that people must (i) adhere to or convert to a particular faith or (ii) listen and respond to messaging designed to induce conversion to a particular faith.